The Fat Crab Café
Dine In or Take Out
The Fat Crab Café brings the taste of the beach to Lancaster County! Located within Mr. Bill's Fresh Seafood market, our cafe is perfect for fun, casual dining for lunch or dinner!
Enjoy delicious seafood entrees and daily specials prepared by our chef without the fine dining price!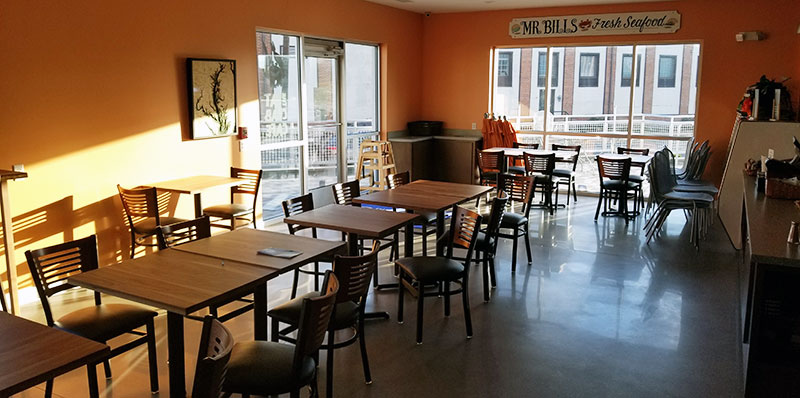 House Specialties
The Crabman
Crab & cheese fries with Mr. Bill's pure spice, our unique cheese blend & roasted garlic-lime aioli $9.95
The Crab Totler
Extra crab, extra cheese over a pile of tater tots w/roasted garlic-lime aioli $15.00
Fish 'n' Chips
Batter fried fish of the day, crispy fries, remoulade & lemon. $13.00
Upgrade to Cod $18.00 or Halibut $21.00
Fish Tacos - $11.99 Shrimp Tacos - $13.99
3 corn tortillas, slaw, tropical salsa & creme Mexicana.
Chesapeake Eggs
Inspired by Scotch Eggs
2 Hard boiled eggs encased in our crabcake, panko crusted and deep fried, served with spicy brown mustard and sweet chili sauces. $11.99
Steamed Middle Neck Clams
w/ Garlic White Wine Sauce 1 doz. - $13.99
Steamed PEI Mussels
w/ Garlic White Wine Sauce or Marinara Sauce 1 lb. - $13.99
Sandwiches
PO Boys Boston Blue - $6 Shrimp - $9 Oyster - $10

Lobster Roll - served on toasted split-top roll w/chips and pickle
1/3 lb cold lobster claw meat salad $19.99
Fresh tail and claw meat picked from a 1lb lobster, warmed in butter $25.00

The following are served on Brioche with chips & pickle
Market Crab Cake
Malk tartar, greens, tomato, red onion $12.99
Fresh Fish
Broiled, blackened, or batter fried, greens, tomato, onion & remoulade $7.95
Soft Shell Crab
Corn crusted, greens, tomato, onion & garlic/lime aioli
1 Crab - $11.99 2 Crabs - $19.99
Big Fat Fish Sandwich
7 oz, greens, tomato, red onion with garlic aioli.
Cod - $17.99 Halibut - $19.99
The Big "CrabHuna" Burger
Char-grilled burger with our unique cheese blend topped with our market crab cake on brioche w/greens, tomato, onion chips and pickles $18.99
In House Smoke Salmon BLT
Served on a toasted brioche w/citrus herb sauce $15.99
Fresh Shrimp Salad or House Smoked Fish Salad
Served on warmed croissant w/greens, tomato and onion chips and pickels $10.99
The Clucker
Grilled or blackened chicken breast with citrus herb spread, greens, tomato & red onion $7.95
Order Crabs at seafood counter
New Dinner Menu
After 4pm
All entrées served with a side salad
Platters: Broiled, Blackened or Batter Fried
served w/fresh veggie and starch of the day.
Fresh Fish $14, Cod $18, Halibut $21, Shrimp $17, Scallops $20, Fried Oysters $19, Chicken $12, Crab Cakes $15, Fried Soft Shell Crab Single $15, Double $21
Seafood Pasta
Shrimp, scallops, fish, clams, and mussels cooked in a fabulous marinara and served over spaghetti $22.00
Linguine in Clam Sauce
The traditional steamed and chopped clams served in a garlic herb butter sauce $23.00
Poseidon's Plate
Broiled fresh fish, shrimp, scallops, crab cake and cracked crab claw w/fresh veggie and starch of the day $28.00
Ask about our Daily Dinner Specials!
Soups
Our Daily Red Seafood Chowder
Aromatic tomato broth, with potatoes and fresh seafood and bacon.
Cup - $6 Bowl - $7
Premium Creamy Chowder/Bisque $1 more
Almost Famous New England Style Clam Chowder
Salads
Romaine Caesar
Lettuce, house made Caesar, crisp bread & parmesan cheese $7.00
Garden Fresh Greens
Cucumbers, carrots, tomatoes, red onion $7.00
Salad Add-Ons
Market Crab Cake - $10.00 or the following grilled or blackened:
Chicken - $5 Tuna - $8 Shrimp or Salmon - $9 Scallops - $10
Dressings
House Vinaigrette, Garden Ranch, 1000 Island, Caesar, Dill Horseradish Cream
Sides
Red Bliss Potato Salad - $2.00
Classic Creamy Slaw - $2.00
Seasonal Marinated Vegetable - $3.00
Fresh Fruit Salad - $3.50
Fries - $3.00 Add cheese - $2.00
Sweet Maui Kettle Chips - $1.50
Beverages
Bottled Water - $1.00 Fountain Soda - $2.00 Bottles/Cans - $2.50 Iced Coffee - $3.50

Desserts
Our Own Handmade Key Lime Pie - $3.50
& Other Sweet Treats
Fabulous and delicious daily specials are created by our chef. Offerings and prices subject to charge.
*Consuming raw or undercooked meat, poultry, fish, seafood, shellfish or eggs may increase your risk of foodbourne illness.
---
Dine-In Crab Setup and Table Service Policy
For the added value and no cleanup at home, we offer our Steamed crabs at our per dozen take out prices plus a fair service charge. (See details and suggestion below.) When you figure out your savings from being BYOB and no tipping you'll realize how good a value this is. We clean up after you!
To allow enough time to enjoy your crabs the last seating/serving times before The Fat Crab Cafe ends service for the day are as follows:
$10 per 2 top table
$20 per 4 top table
(to have your crabs ready when you arrive)
Table Reservations Recommended
(limited amount of crab tables at times)
Dine-In Crabs starting at $30 per dz
$1 Melted Butter + tax
Try our Daily Specials
For Today's latest and greatest creations. Coupons available.