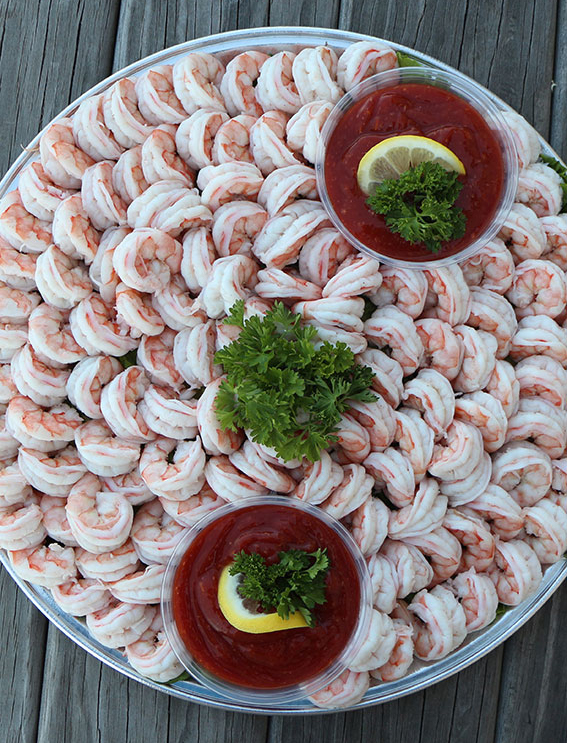 SHRIMP of the AMERICAS!!
Remarkably Superior Shrimp!!
Top quality shrimp only from the Americas. Primarily Mexico, Central America, and Ecuador. All are #1 White Shrimp of the finest variety both Wild and Farmed. Our Farmed shrimp is raised at such a high standard that no antibiotics are used and are free of preservatives. You'll get highest quality and a higher yield with remarkably superior taste and texture!
Mr. Bill's Sizing Standard:
Small (41-50 count)
Medium (31-35 count)
Large (26-30 count)
X-Large (21-25 count)
Jumbo (16-20, U-15, U-12, U10 count)
Colossal (U-8, U-7 count)
Shrimp (U-7 count)

Raw or Steamed/ Shell On & Our Own Peeled and Deveined
Party Trays from our own Peeled and Deveined
Peeled and Deveined only from 21-25 ct and larger
Shrimp Party Trays
All shrimp peeled or deveined
All trays include bed of lettuce, lemon, cocktail sauce and/or spicy crab sauce. Advance orders necessary. 6% sales tax added to all party tray orders.
Regular Tray
2 1/2 lb. Raw Wt. P&D
21-25 ct. (approx. 70)
$69

2 1/2 lb. Raw Wt. P&D
16-20 ct. (approx. 50)
$79
Large Tray
5 lb. Raw Wt. P&D
21-25 ct. (approx. 140)
$129

5 lb. Raw Wt. P&D
16-20 ct. (approx. 100)
$149
Shrimp Tray Add ons, add $20
6 oz Blue Crab Cocktail claws
6 oz Smoked Mussels 6 oz Smoked Scallops
6 oz Lobster Salad add $49
Try our Daily Specials
For Today's latest and greatest creations. Coupons available.